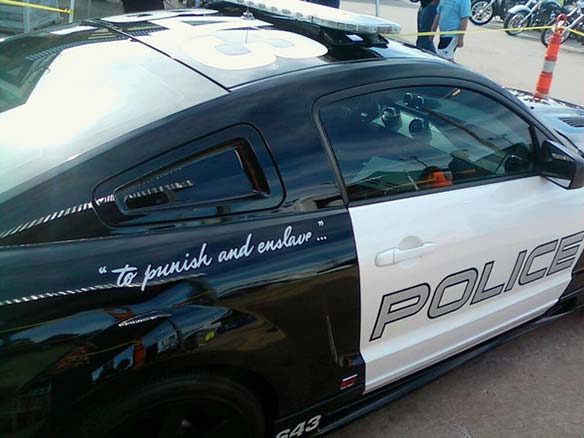 By now many of you will have read the story of the NYPD officers patrolling the streets of Park Slope, Brooklyn, who told a roving band of dangerous thugs (read: black kids) to get out of the neighborhood:
Cops protecting tony Park Slope, Brooklyn, tailed a group of black teens in their patrol car and ordered them to "get out of the neighborhood," a stunned witness claimed.

Sara Bennett said five teens were walking along Ninth St. between Sixth and Seventh Aves. at 2:45 p.m. on Sept. 22 when she saw an NYPD patrol car following the youths with its lights and sirens on.

Then, over the loudspeakers, a cop told the teens to leave the area, Bennett said.

"I was upset by (the) police behavior," Bennett wrote on her Facebook page Wednesday. "I notified my city council person (Brad Lander) about what I had witnessed. His office told me I should voice my concern at a precinct council meeting, so I did."

At the meeting, Bennett said she "was really, really upset and disturbed" by what happened.

"Not by the kids, but by the way the police were yelling at them to get out of the neighborhood," Bennett said. "They were just walking down the street."
(full article available at New York Daily News, original story reported by DNAInfo)
Totally reasonable behavior, right? I mean, there have been reports of fighting, troublemaking teens outside of Atlantic Center Mall, and these dangerous looking street terrorists were ONLY 1.5 miles from that mall. Can't let them get too close.
So today, less than 24 hours after these reports started going viral, I received an interesting photo from a loyal reader who happens to live in Park Slope (read: my wife).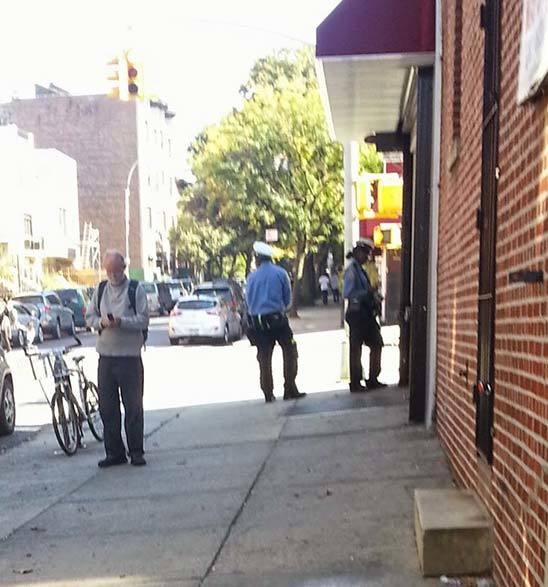 For those of you who don't know much about Park Slope, there's practically never any stationary police presence. Ever. Park Slope is still very Brooklyn in some ways, but it's so white washed and gentrified you could probably go to bed at night with your door wide open and still wake up with all your belongings. I should know: I've done it. Twice (not intentionally, I'm just real dumb). I've had friends tell me they've left their car windows open all week (also unintentionally and out of dumbness) and come back to find everything intact. It's not like my old neighborhood (West Harlem) where cops were just cold chillin on the corner all the live long day.
So to see a couple of cops posted up on the corner like this in Park Slope is not typical, at all. But hey, there's something different about these cops too. I'll let her describe it herself:
HER
two black cops whose only job today appears to be standing on the corner being black cops
wonder why that is….

ME
Rofl
Where is that

HER
5th ave and 7th st
they were there at 1130, 225 and 245
so I assume they've been there all day
harlem style

ME
NOT SNEAKY

HER
and just to appease the extra progressive among us
they included a black FEMALE cop
she's got to be like 1 of, what?, 5 in the whole NYPD?
This is like the 78th Precinct equivalent of, "I'm not racist. How can I be racist? SOME OF MY BEST FRIENDS ARE BLACK!" This isn't the first time they've put on a show like this (happened after the Eric Garner incident too) and based on the response of the police chief, this won't be the last.
Maybe they need to replace that "Courtesy Professionalism Respect" on the side of their cars with "Corral Punish Relocate" or "Can't Possibly be Racist."