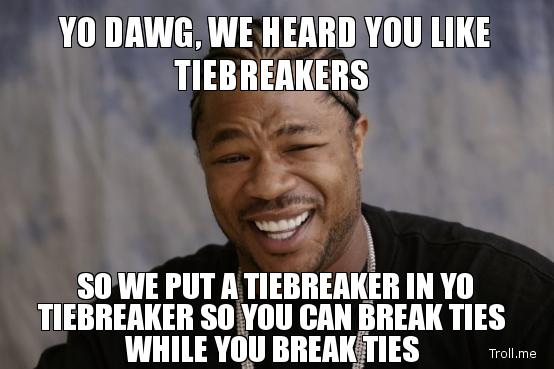 Following a thrilling, soul-crushing, last-minute goal by Portugal to salvage a draw against the United States, Group G sits with two teams tied for first place (Germany, USA) and two teams tied for last place (Portugal, Ghana). Soccer fans, being no different from fans of any other sport, have of course been getting ahead of themselves and spent a good portion of Sunday evening trying to figure out what it would take for the United States to advance to the knockout stage. Unfortunately, given the number of ties in the group, figuring out all the scenarios hasn't been that simple. Across the land many fans have discovered the complexities of World Cup tiebreakers.
Now, I was taking a look at the literature and as many of you (now) know, head-to-head victory is NOT the first tiebreaker. The phrase "head-to-head" isn't even anywhere on the list. How un-American is that?! Instead, this what the internet has to say about FIFA/World Cup tiebreakers, with my explanations thrown in.
Tiebreaker #1
Goal difference in the group matches
Simple enough: goals for your team subtracted from goals against your team in all games played so far. Note that despite what you and I think, goals scored off your junk do NOT count extra. There's no justice in this game. Sorry, Deuce Single.
Tiebreaker #2
Greatest number of goals scored in the group matches
In other words, run up the score ALL THE TIME. Nick Saban probably loves this tiebreaker.
Tiebreaker #3
Greatest number of points obtained in the group matches between the teams concerned
This is the part where FIFA decided to to make the concept of head-to-head tiebreakers as complicated as possible by using the most awkward phrasing it could come up with. Thanks guys, 'preesh.
Tiebreaker #4
Goal difference resulting from the group matches between the teams concerned
This is the same as Tiebreaker #1 but only taking into account the tied teams. The creativity FIFA has shown in crafting these tiebreakers is staggering.
Tiebreaker #5
Greater number of goals scored in all group matches between the teams concerned
SHOW NO MERCY FOR THINE FELLOW SPORTSMAN. NAY, TO LAY CLAIM TO THE HALLOWED OFFSPRING OF JULES RIMET YOU MUST CRUSH HIM TO SMITHEREENS WITH A VENGEFUL HAIL OF CALLOUSNESS AND SHOTS ON GOAL.
Tiebreaker #6
Drawing of lots by the FIFA Organizing Committee
"Drawing of lots" is how they used to say "by lottery" back in like 1066. That's approximately how current FIFA's rule book is.
Now interestingly enough, this is where most websites end when they discuss tiebreakers. But being the crack journalist that I am (i.e., I journal crack) I discovered that "drawing of lots" isn't supposed to be the sixth tiebreaker, it's the SIXTEENTH tiebreaker. Here are the missing ten: